Nick Rerras for Virginia State Senate
Fighting for lower real estate taxes!
Dear Friends and Neighbors,
It has been an honor to serve you over the past 8 years in the Virginia Senate.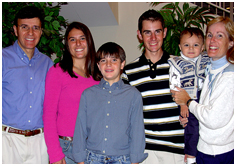 I have kept the promises I made to work for better schools, safer communities, lower real estate taxes and an improved transportation system. I have successfully carried legislation to make our communities safer. As a result, I have been honored to receive two of Virginia's top law enforcement awards: the Fraternal Order of Police (FOP) "Senator of the Year" award and the Sheriff's Association "Legislator of the Year" award.
Owning a home is the American Dream. We need to keep this dream alive, and limiting real estate tax increases will greatly help everyone. Some of our neighbors have had to take second jobs, take out new loans or even sell their homes to help pay their skyrocketing tax bills. I sponsored a Constitutional Amendment to allow up to 20% of the value of a person's home to be exempt from real estate taxes. I also sponsored legislation to cap real estate tax increases to no more that 5% a year.
I now ask for your vote and assistance as I seek re-election to the Senate. I greatly appreciate the opportunity to serve as your Senator.
Sincerely,

Nick Rerras
Senator, 6th District